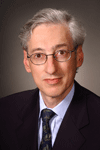 At the 2012 Annual General Meeting of the Canadian Branch, Robert Couzin was elected as an Honorary Member of the Branch. Nick Pantaleo, President, Canadian Branch, International Fiscal Association, May 17, 2012 gave the following address at the presentation.
"Not long ago, the Canadian Branch of IFA decided that it would periodically honour a member for their outstanding contribution, not only to the International Fiscal Association and its ongoing study and analysis of international finance and taxation, but also for the contributions the individual has made to enhance tax policy and tax administration in Canada.
These special honourees are recognized as Canadian ambassadors in the international tax world – they project Canada and all of our interests to the rest of the world and are seen to speak with a unique combination of authority and wisdom that few of us possess. I can think of no one more deserving of such an honour than this year's honouree, Robert Couzin.
Robert is one of Canada's best-known and most respected tax practitioners, someone with a sterling reputation for eloquence, brilliance and elegance who has a unique ability to think through problems and issues, always ending with a beautifully reasoned analysis.
Over his career, Robert's practice has tended to focus on corporate and international taxation advising Canadian and international clients on complex merger, acquisition and reorganization transactions as well as general tax planning. He has also been involved in tax litigation, representing clients in tax audits and appeals and has appeared for clients in the federal courts and the courts of Ontario, Québec and Alberta.
It has not just been taxpayers that have sought and benefitted from his services – Robert has acted as a consultant to the OECD, the Department of Finance and the Canada Revenue Agency and he served as a member of the Ontario Fair Tax Commission in the early 1990s. He has taught at the University of Toronto and McGill University law faculties and at Osgoode Hall Law School. He has spoken and written extensively on international and corporate taxation in publications of the Canadian Tax Foundation, IFA, and other journals, equally proficient and eloquent in English and in French.
He is a former President of the Canadian Branch of IFA and has of course spoken at Canadian branch annual seminar many times, including this year's seminar where he is our next speaker after this luncheon. He has served as a lecturer of our travelling lectureship – twice. One of which resulted in him authoring a book entitled Corporate Residence and International Taxation, published in 2002. Robert is the current chair of the Permanent Scientific Committee of the International Fiscal Association, having first served on IFA's Executive Committee. He has served as chair of the Taxation Commission of the International Chamber of Commerce and contributed for many years to the work of BIAC in its presentations to the OECD. You would think that all of these accomplishments make Robert very special in the tax world. And they do.
But he has a couple of defining characteristics that some of us, at least, think are the catalyst for these accomplishments. He is steadfastly intellectually honest, and he is not afraid to be the one to ask the obvious question, knowing intuitively that the answer is unlikely to be quite as obvious as most of us assume. He is curious, he is inquisitive and he is self-effacing in his willingness to concede that his may not be the last or best answer but that what counts is the vigorous and penetrating debate. Robert is the thinker "outside" the proverbial box that we would all like to be, but very few of us are. And for Robert, little was impossible. For example, he is not a native French speaker. Some of his Toronto Stikeman partners will recall that in the 1980s he raised the bar on his study of the French language by reading Proust in the original French on his daily commute to the office in Toronto on the Avenue Road bus and the University subway!
Many would not know that Robert is an accomplished musician – having studied the harpsichord, while practicing law and doing all the other things he has done, with one of the world's most gifted harpsichord virtuosos. When Robert needed a harpsichord, most of us – if there are any of us who would have been in this position – would have simply gone out and purchased one. Not Robert. He ordered a kit from the renowned Boston harpsichord manufacturer, Dowd. While his partners were stymied about how to assemble a barbeque, Robert built a harpsichord!
And in case you think that he has no time or interest or passions other than tax, Robert is currently pursuing a PhD in the department of Art History at the University of Toronto.
Ladies and gentlemen, it is my honour to recognize Robert Couzin."